Introduction to Audio SEO
On the engineering front, Huckabuy has always prided itself on listening to Google and building accordingly. But so does our marketing team. That's why I had one eyebrow raised during the May 2019 Google I/O Conference when Google made a big announcement.  Audio would become indexable, searchable, and integrated across all devices as part of their mission to make it a "first-class citizen" of the search engine. I thought to myself – wow, the dawn of a couple of new organic reach goldmines were upon us.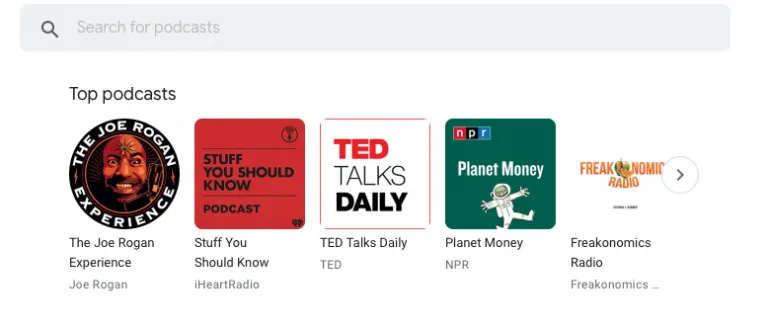 There's a lot to cover on this topic and it won't be done in one go. We need to riff on the top-level points in this one.
1. The rise of Audio SEO.
2. Why podcasts are Audio SEO assets now.
3. How to leverage podcasts for Audio SEO.
If you want to be a first-mover in a new channel, or you're that battle-hardened, scrappy marketer stretching dollars and content, this is for you. Read on.
Article Summary
1. Google is creating a new search vertical for audio.
2. The size of the medium will increase significantly in upcoming years.
3. Podcasts and audiences will discover each other faster.
4. Marketers have a big opportunity to leverage associated channels now.
5. SEO fundamentals and technical initiatives will help you appear highly, frequently, informatively, and visibly in organic audio results.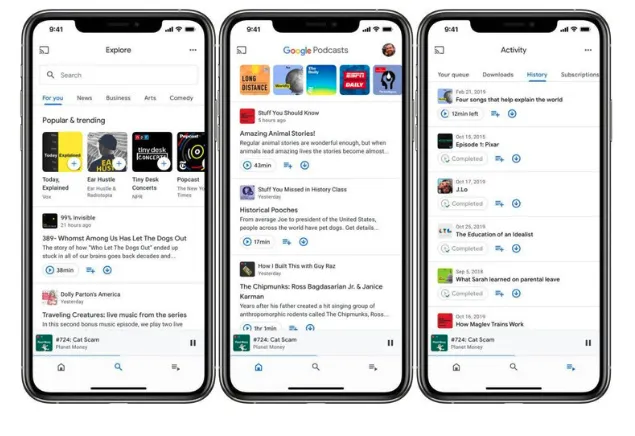 The rise of audio and podcasts
Considering the 25+ year history of search, audio hasn't received the same level of investment that other verticals like image, video, and text have. But this is changing as Google builds an audio search engine. It's an addition that could be responsible for doubling the number of podcast listeners in 2 years.
The market opportunity is certainly there. Think about these numbers:
Only 51% of Americans listened to at least 1 podcast in the last year.
Only 32% of Americans listen to podcasts on a monthly basis.
Only 25% of Americans listen to podcasts on a weekly basis.
Android controls 70% of the mobile phone market, but its users haven't been introduced to podcasts like iOS users.
93% of listeners who start a podcast listen to most or all of the episode.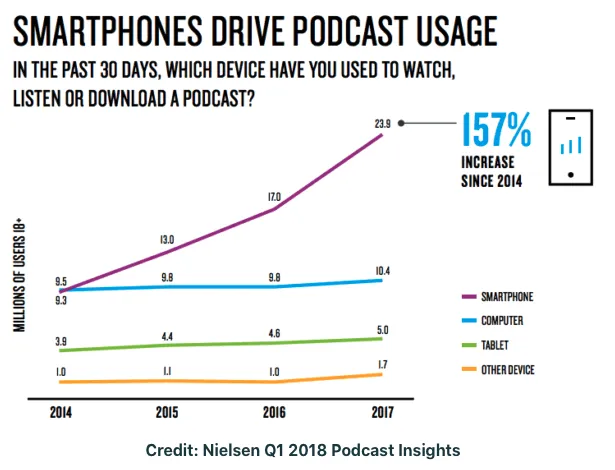 What I take from these numbers:
There are many "greenfields" investment opportunities in the podcast landscape – at least half of America still needs an introduction to the medium.
The release of Google Podcasts will reduce friction for Android owners and further grow the podcast user base.
The average podcast listener prioritizes a lot of weekly time for listening. 
Audio is a great medium because it is portable, the experience is hands and eyes-free, and listeners can multi-task and be present across multiple settings.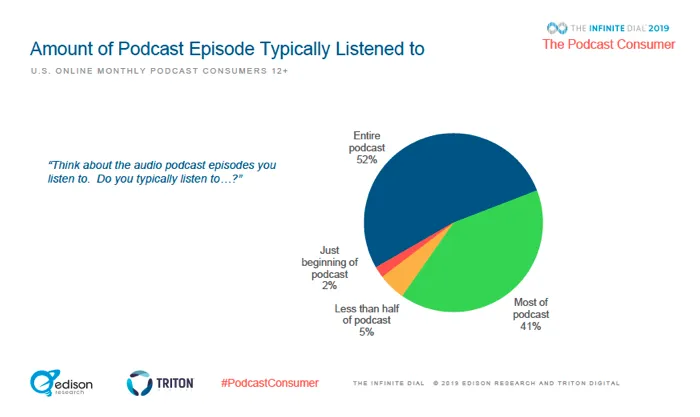 In the current world, it is difficult for podcasts to leverage the ratings and reviews algorithm to rank on important charts. Likewise, users have to enter exact details in janky, app-based search engines to find shows. And (until recently) shows weren't being surfaced in search results or easily accessible on all mobile devices for potential new listeners.
By investing in a dedicated audio search vertical, Google is solving these three problems at once. Hosts will be able to reach and grow audiences faster. Current listeners will be able to discover more shows faster. And first-time podcast listeners will be introduced to the world serendipitously via search results. 
Audio and Podcast SEO strategy
Audio SEO is the process of optimizing audio-specific content to rank highly, informatively, and prominently for applicable search results. Podcast SEO is a subset of Audio SEO in which you optimize your show and episodes to rank well in organic results. On both fronts, consider the following marketing tactics.
Make sure content makes sense to first-time listeners
Through audio search, segments of shows will be perfectly timestamped, searchable, and indexable for queries in the same quality way a text result might return an excerpt from an article. Anticipate the queries that your audio will rank for and make sure the content makes sense for users in a search context.
Account for device interoperability 
The content has to work for smart speakers too. Factor scenarios like this one where the user might listen to a portion of your audio in a car, pause, and then resume listening on a home device in a living room. Likewise, think about the expectations on each device. Users might want shorter, Q+A based content on speaker devices compared to longer-form storytelling, for example, from their smartphone experiences.
Audio can reduce the marginal cost of additional content 
Think about all the extra mileage you can get out of your audio. Maybe a part of the conversation becomes a blog post on your website, a couple of memorable quotes are lifted for a SlideShare, or the video alternative is posted on Youtube. The possibilities are endless. And the ROI is huge for small teams. One piece of hero content can easily be repurposed into multiple different formats on multiple platforms and mediums in quality and quantity.
How to leverage podcasts for Audio SEO
A future article will be written on this sub-topic. For now, we will cover the essentials.
First, in the same way you should optimize the title tags and meta descriptions on your website, you want to optimize the titles and descriptions of your podcast episodes as well. The fundamentals are the same – include relevant keywords, guest names, and the value proposition of the content. Show titles should be 6-8 words long and show descriptions should be 25-30 words long to ensure they display completely in search results.
Second, the show notes section is an opportunity to expand on content from the audio transcription. You can include a summary or outline of topics and stories, biographies of guests and other people mentioned, the best quotes, links to other relevant content and websites, social accounts, and images that help you rank and appear more frequently in the searches of your target audience.
Third, you will want to follow Google's guidelines on structured data markup to help their Search Bots crawl, understand, and index content – as well as perform actions on smart devices. The added markup helps Google improve the appearance, functionality, and visibility of your podcast in search results too. For example, episodes may appear in a carousel format above the first organic link, enticing new audiences to click-through to check out an episode.
Conclusion – Audio SEO is part of the future
I read a great quote recently – "escape competition through authenticity". In my mind (in a marketing context), this means finding a combination of (1) emerging channels, mediums, and underpriced attention where you have the first-mover advantage, (2) an inexpensive, organic reach opportunity to gather immediate attention and brand awareness, and (3) huge cultural influence through the medium or on the platform due to this abundance. 
The world of podcasts is the opportunity here.
Think about what print did to assembly, what radio did to print, then what TV did to radio, and of course what the internet did to TV. We are experiencing a revolution yet again and it is based on audio. Many winners will simply be early adopters. And rest assured, if you are reading this article today and get started tomorrow you would be in that category.
Now that you know what you know, what are you waiting for?
In Recap
1. Google is making audio the next big thing in search.
2. Podcasts will become easier to disseminate and discover via audio search.
3. You are still early to the game if you invest now.
4. Be mindful of first-time listeners as you grow your audience, factor device interoperability in your strategy, and leverage audio to produce similar highquality content through other mediums and on other platforms.
5. For SEO purposes, treat show and episode titles like webpage titles and meta descriptions. Create additional keyword ranking opportunities in the show notes section. And layer on Google's podcast markup to help Google understand and utilize your content across search results and devices.