Content Curator
Create quality content.
in 5 minutes.
Improve SEO, boost organic traffic, and provide unique value to your audience
Get started using Content Curator today!
Get Started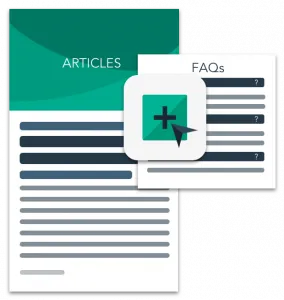 Streamline the creation of Fresh Content and Rich Results
Users and search engines demand fresh content and easily accessible information. Huckabuy's content curation platform enables you to consistently add quality content like the latest news, related articles, FAQs, and more to your key pages with minimal effort — so you can use your creative energy elsewhere.

The best part? These benefits aren't just limited to your blog or informational pages. You can boost rankings and capture rich results for your biggest money-making pages (like category pages and product pages). It's as simple as filling out the fields in our platform and clicking publish.
Featured benefits:
Improve search rankings
Add meaningful content in 5 minutes
Clean, universal design
Easily create content for Rich Results in Google Search
More time for new and exciting projects!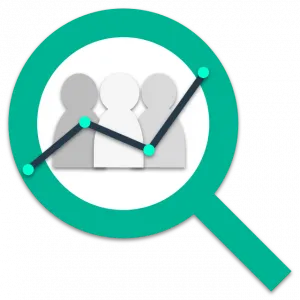 Consistently Add Fresh Content for Google Bots
Our Content Curator helps you consistently add fresh content. This means that Google search bots will be signaled to crawl these pages regularly. Google ranks pages with new, original information higher on the search engine results page (SERPs) and fresh content also helps you maintain existing rankings.

Higher organic rankings mean an increase in free, high-intent traffic to your site.
Streamline the Creation of Quality Content for Your Readers
While Huckabuy Content Curator helps keep your content fresh for search engines, it isn't an AI tool just for bots. In fact, it works much better than an AI tool. This is an SEO tool that provides genuine quality to your users by keeping them informed and giving them your unique take on important topics. When other experts talk about a topic related to your product, use the opportunity to state your opinion on the topic, present your angle, and solidify your brand into the overarching conversation. This will signal authority to both Google and your readers.
How It Works
With Huckabuy Content Curator, you can post a variety of SEO-optimized content types to your website, with little effort. The below example explains how to add featured articles to the bottom of your web pages.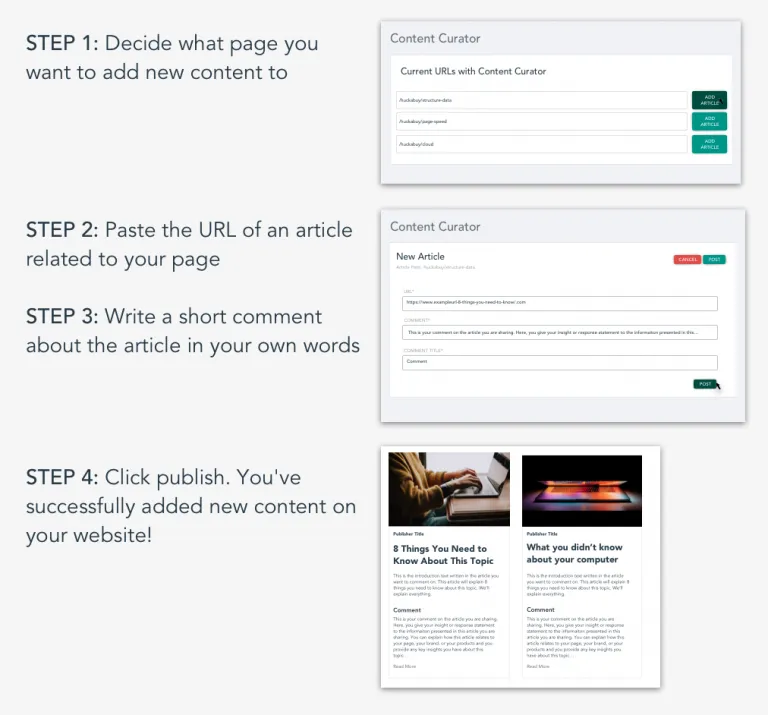 Sign Up For Content Curator